Erich-Mendelsohn-Preis 2023 | News
Bilingual Award Ceremony
The award ceremony of the Erich Mendelsohn Award 2023 for Brick Architecture took place on September 8 at the Deutsches Architektur Zentrum (DAZ) in Berlin. More than 100 guests from all over the world celebrated together the award of the best buildings made of brick.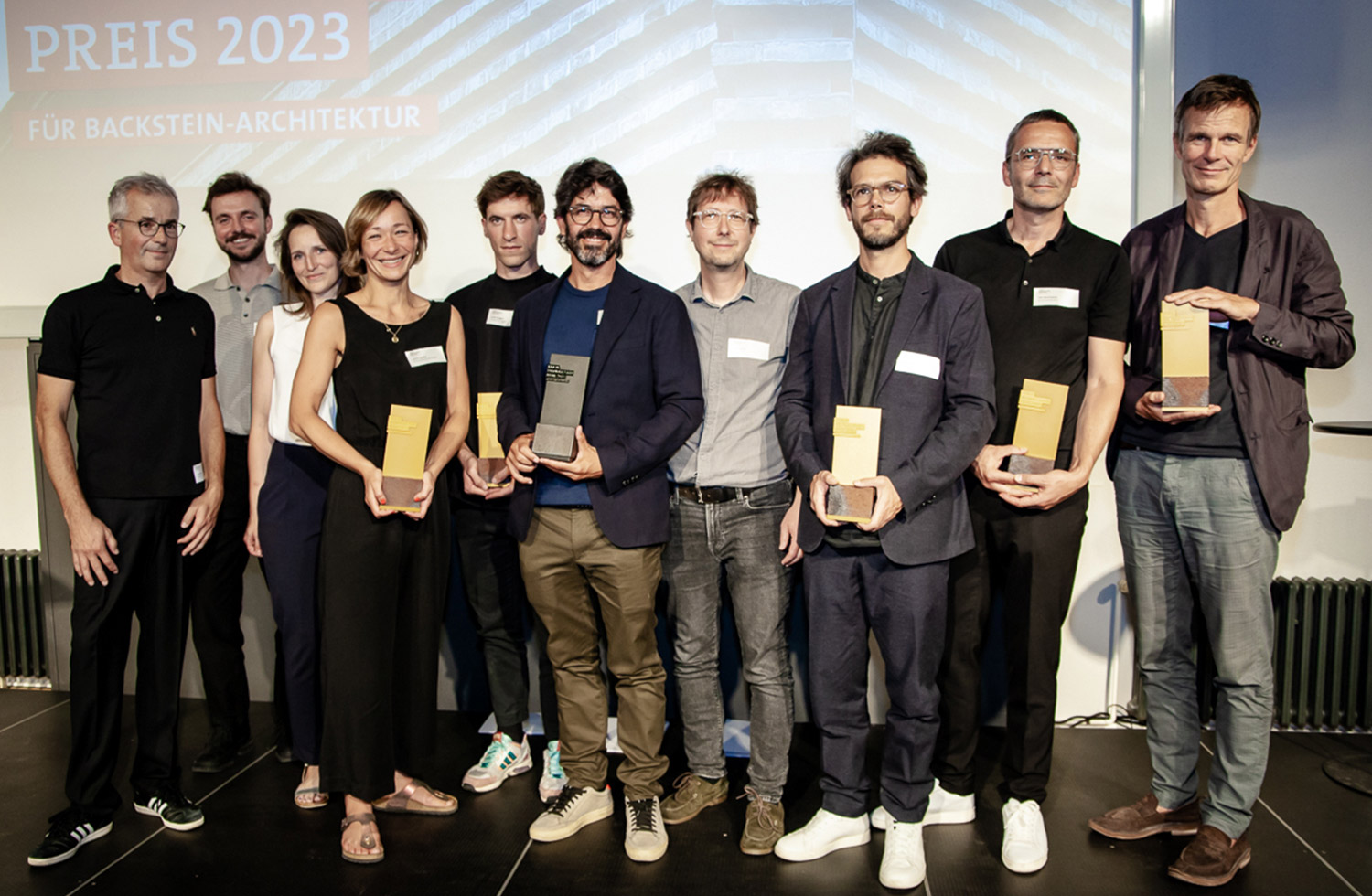 © Markus Mirschel
Due to the steadily growing international significance of the award, this year's ceremony was held bilingually: Jens Kallfelz, Managing Director of the Kopfkunst communications agency, who has closely supported the award since it was first announced in 2008, led the evening in German. For the guests from Mexico, Spain, England, Ireland and the Netherlands, Bauwelt editor Josepha Landes translated into English. One topic of the moderation, before moving on to the highlight of the evening, the announcement of the winners, was the new namesake Erich Mendelsohn. In his welcoming speech, Dr. Thomas Welter, Executive Director of the Bund Deutscher Architektinnen und Architekten (BDA), praised the decision: "In Erich Mendelsohn, we have found a name that fits the award perfectly: He was able to deal with all building materials, including brick." Ernst Buchow, chairman of the awarding Initiative Bauen mit Backstein (Building with Brick), took a look at the future of brick in his welcoming words: "We have all the answers to the questions that are being asked. I am firmly convinced that we will succeed in producing bricks in a climate-neutral way!"
Announcing the winners
For the audience, the subsequent awarding of the winners remained exciting and full of surprises until the very end: Three gold medals were awarded in the category of residential buildings – but there was no gold in the office and commercial building category. The suspense was only resolved at the end, when the Grand Prix went to this very category. Particularly pleasing was the fact that almost all the winners made the trip to Berlin to collect their awards in person. An architecture office that is friends with Gold-Winner Estudio MMX was able to accept the award on their behalf and bring the trophy safely back to Mexico in their luggage. The laudatory speeches for the four main categories as well as the two additional categories Newcomer and Renovation were held by representatives of the manufacturing companies behind the Initiative Bauen mit Backstein.
Exhibition opening and party
After the honoring of the Grand Prix and all gold, silver and bronze winners, the unofficial part of the evening followed: The unveiling of the stelas opened the exhibition of selected projects from the shortlist. In the best summer evening weather in Berlin, the party lasted deep into the night. The conclusion: even after the cancellation of the award ceremony 2020 due to corona, architectural offices, press representatives and manufacturers have not forgotten how to celebrate! 
We congratulate all winners and thank them for the beautiful and enriching evening!